Manco & Manco Pizzeria - 9th Street on the Boardwalk in Ocean City, NJ
For anyone who hasn't been to Wildwood, Mack's Pizza on the boardwalk is among my favorite pizzerias of all time. According to history, it started as a chain with another pizzeria in Ocean City, originally named Mack and Manco's. Though they have since split apart, I figured I should check out Manco & Manco's to see how it stood up to Mack's. I could only find 15 minute parking on the street, so I had to be quick about it, but I was able to get to one of Manco's three locations (8th, 9th, and 12th Street all on the boardwalk) with time to spare. Just from looking at the slices, I could tell that Manco's recipe came from the same place as Mack's. They did have a few different toppings such as tomato & basil, but I stuck with some classics, as I just couldn't pass up that delicious looking pepperoni.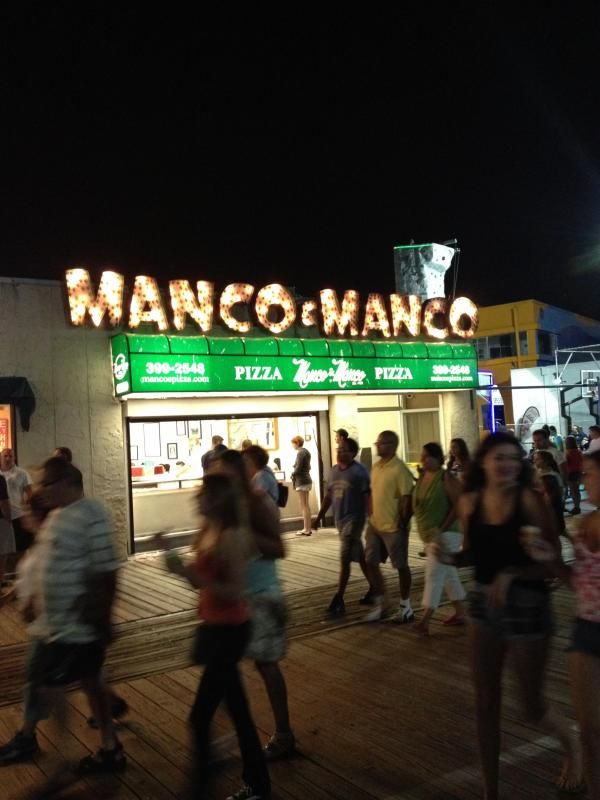 And the verdict? Manco's is almost exactly the same as Mack's. Same taste (super thin with cheddar mixed in to the cheese), same boardwalk atmosphere, and (unfortunately) the same steep price. These two slices ran me $6.25. Considering how thin they are, that's a lot of dough (get it?!?). I would complain more, but the slices are phenomenal. Seeing as I already had 4 slices up in Long Branch, I thought I was going to regret getting the 'roni after I started on the plain, but I surprised myself and didn't. While I thoroughly enjoyed both, I will say they each had a completely different vibe. The pepperoni was thick and greasy, just the way I like it, but it did mask over the trademark cheddar taste, so depending on what you're feeling will determine which slice you should go with. This may be the only slices I've had in Ocean City, but if it's anything like Wildwood, I won't need to sample the rest, because I'm guessing this is the best.
-Tom